TAXI QR CODE BOOKER
Get more automated taxi bookings using
QR codes anywhere inside a venue
The next-generation taxi QR code booker for fleets
Say hi to Taxi Butler QR, the next-generation QR taxi booker
that generates automated taxi bookings from anywhere
inside hotels, bars, and restaurants.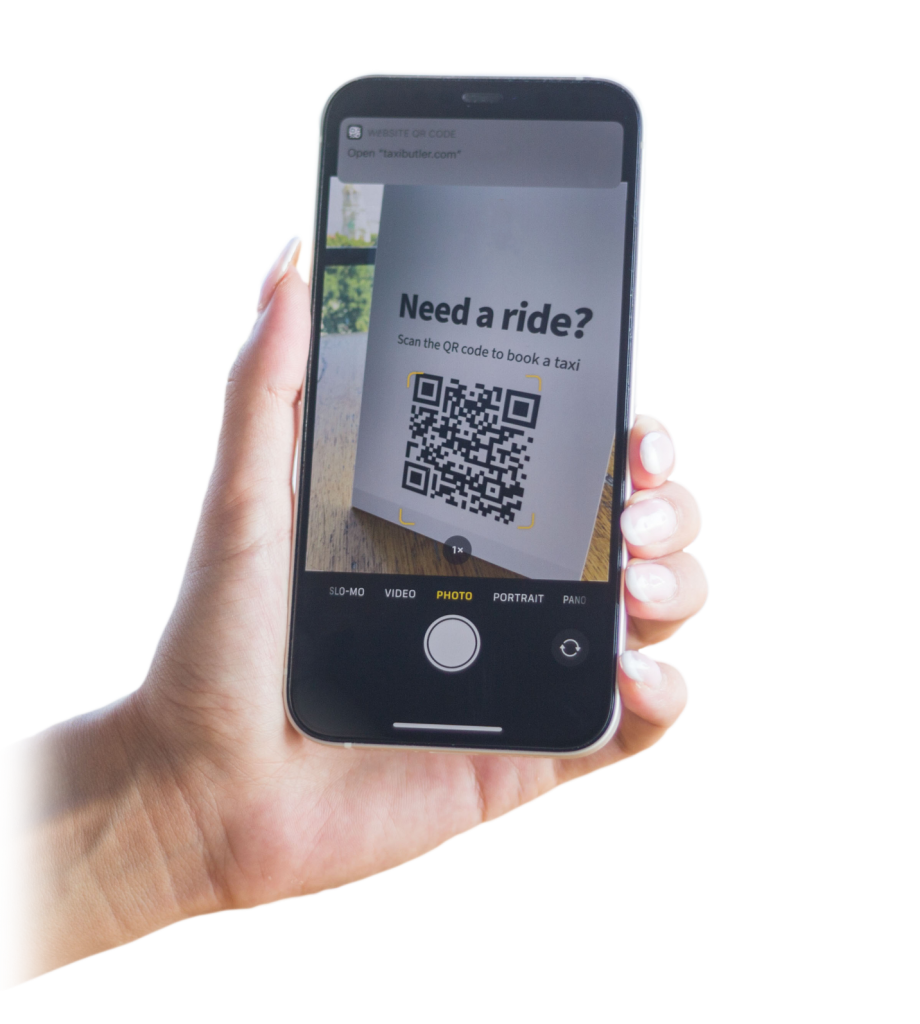 Hey! Joost here from Taxi Butler.
Just
click here
to get started for free for 3 months or if you've got any questions 💬
Place QR codes in hotel rooms, bar lounges or airports, and just like that, you're their go-to local taxi company.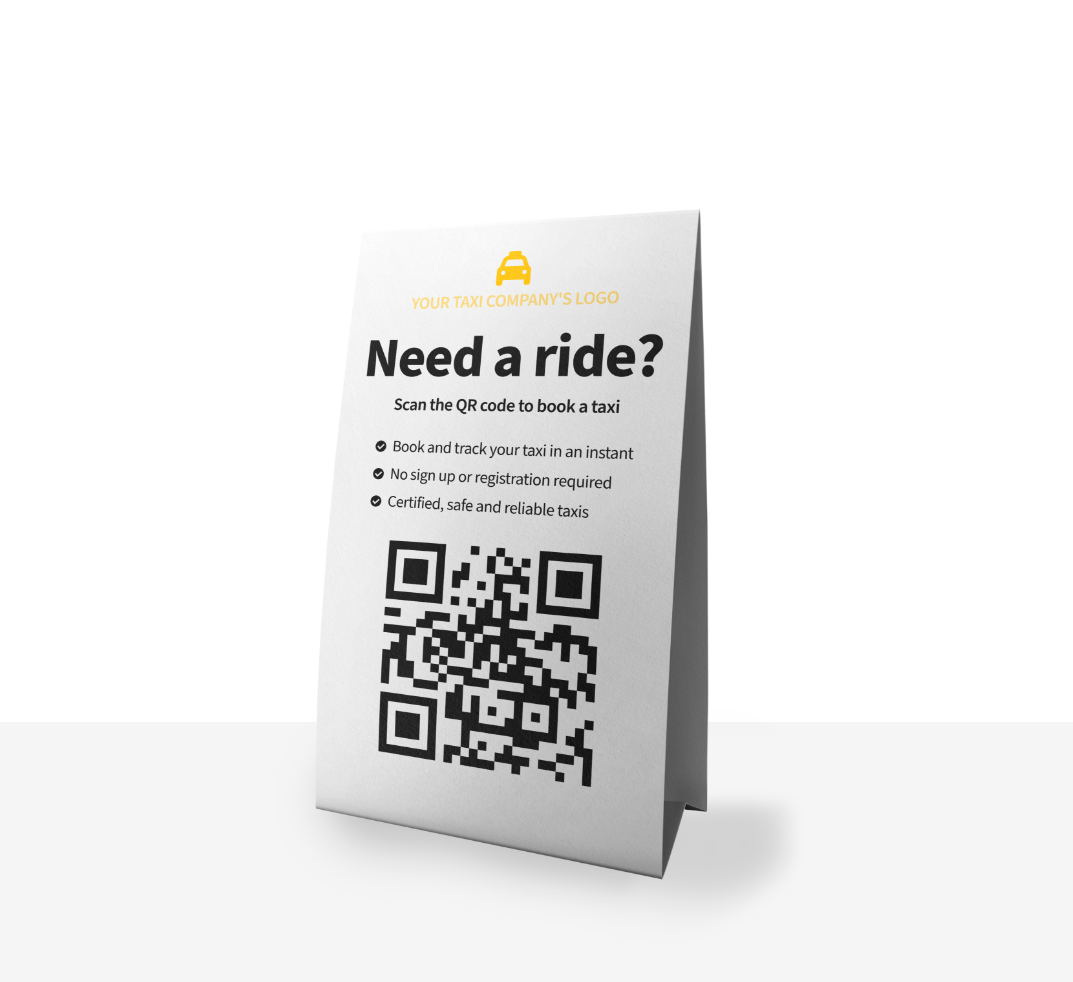 People scan the QR code and are directed to a ready-made web interface to book a taxi with your fleet.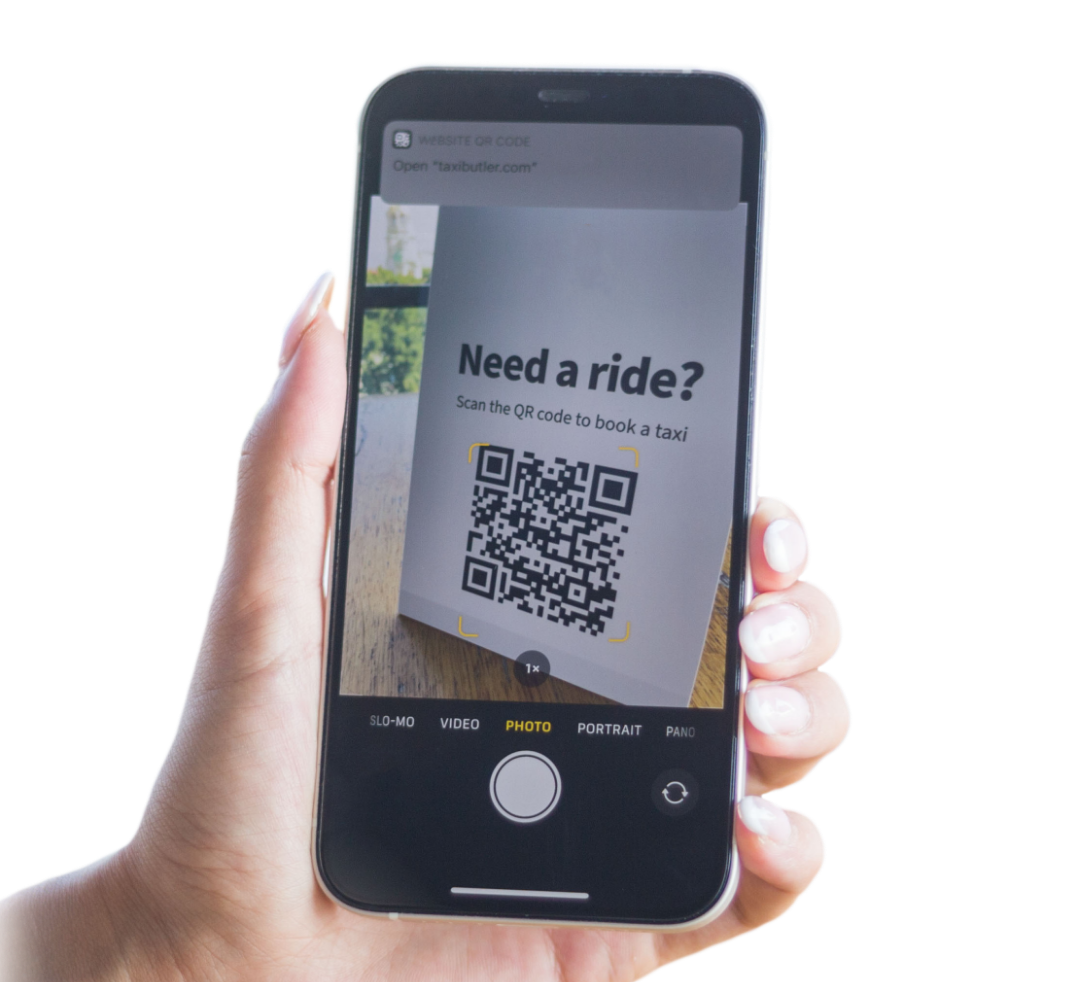 Start receiving more automated bookings from venues, alongside your Taxi Butlers.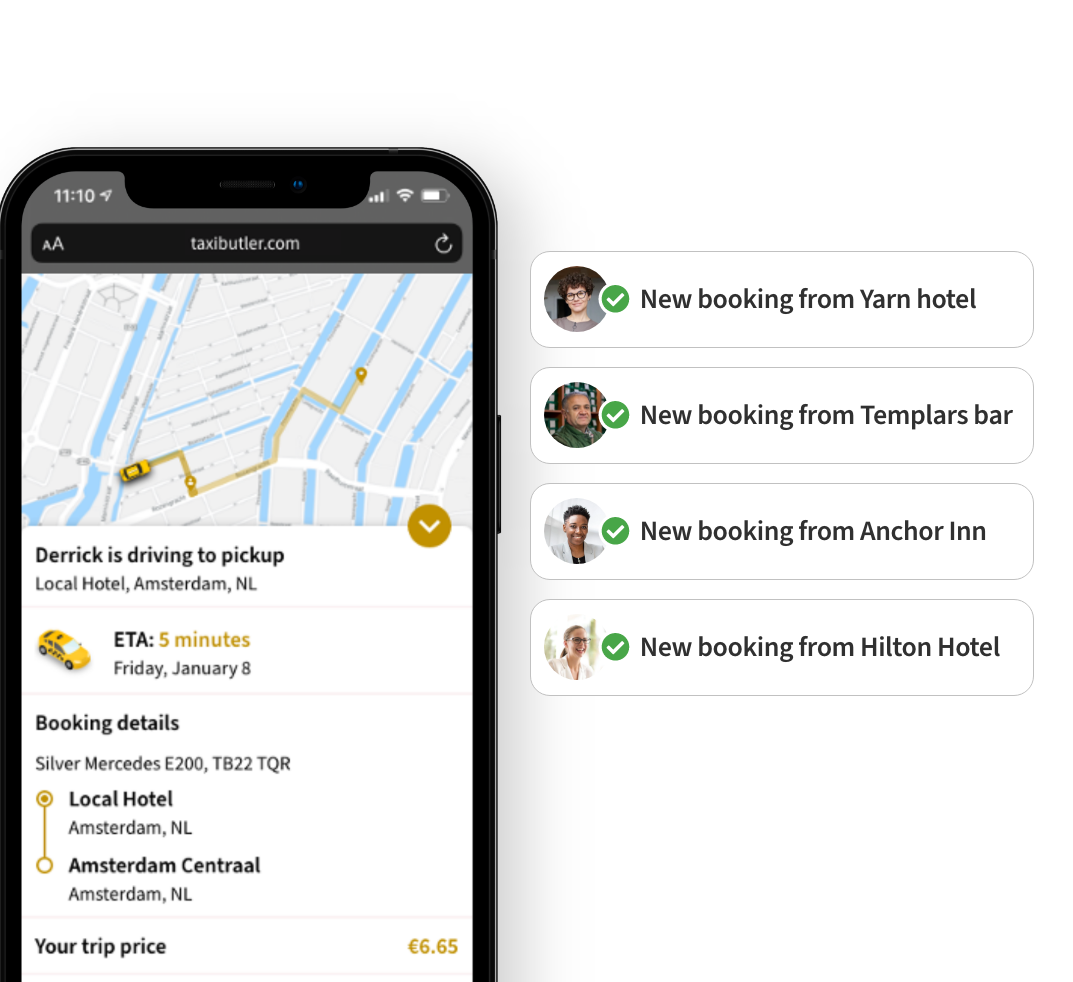 Built on Taxi Butler technology that hundreds of fleets already trust
Rated 4.3 stars by our customers

Me again 👋 We've built this next-generation QR taxi booker from
the ground up, with all of our love, care and time to test it with
real fleets, venues and passengers before launching.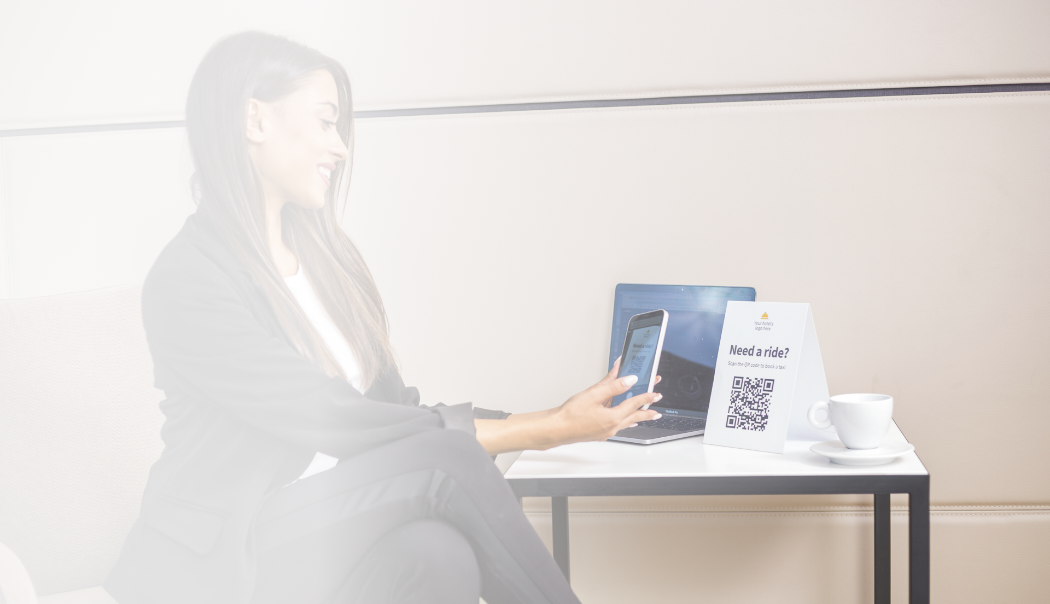 Capture automated bookings from
more than just the reception desk
with QR taxi booking
Let people visiting local venues book taxis with your fleet more easily
Generate even more automated bookings alongside your Taxi Butlers
Increase your brand visibility across venues in your community
Create exclusivity with your local venues
Already integrated with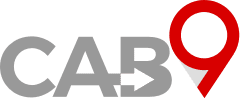 Pssst! You can still sign up for Taxi Butler QR if you're using
another dispatch system, we'll get things rolling with the
integration as soon as possible! 🚀
A seamless taxi booking experience with QR codes.
From A to Z.

You can customize this interface with your brand colours
(or even the venue's) and pre-configure which taxi types
you'd like available 🚕

You can customize this interface with your brand colours (or even the venue's) and pre-configure which taxi types you'd like available 🚕
Preset pickup addresses
Each one of your Taxi Butler QR codes is pre-configured by you with the pickup address.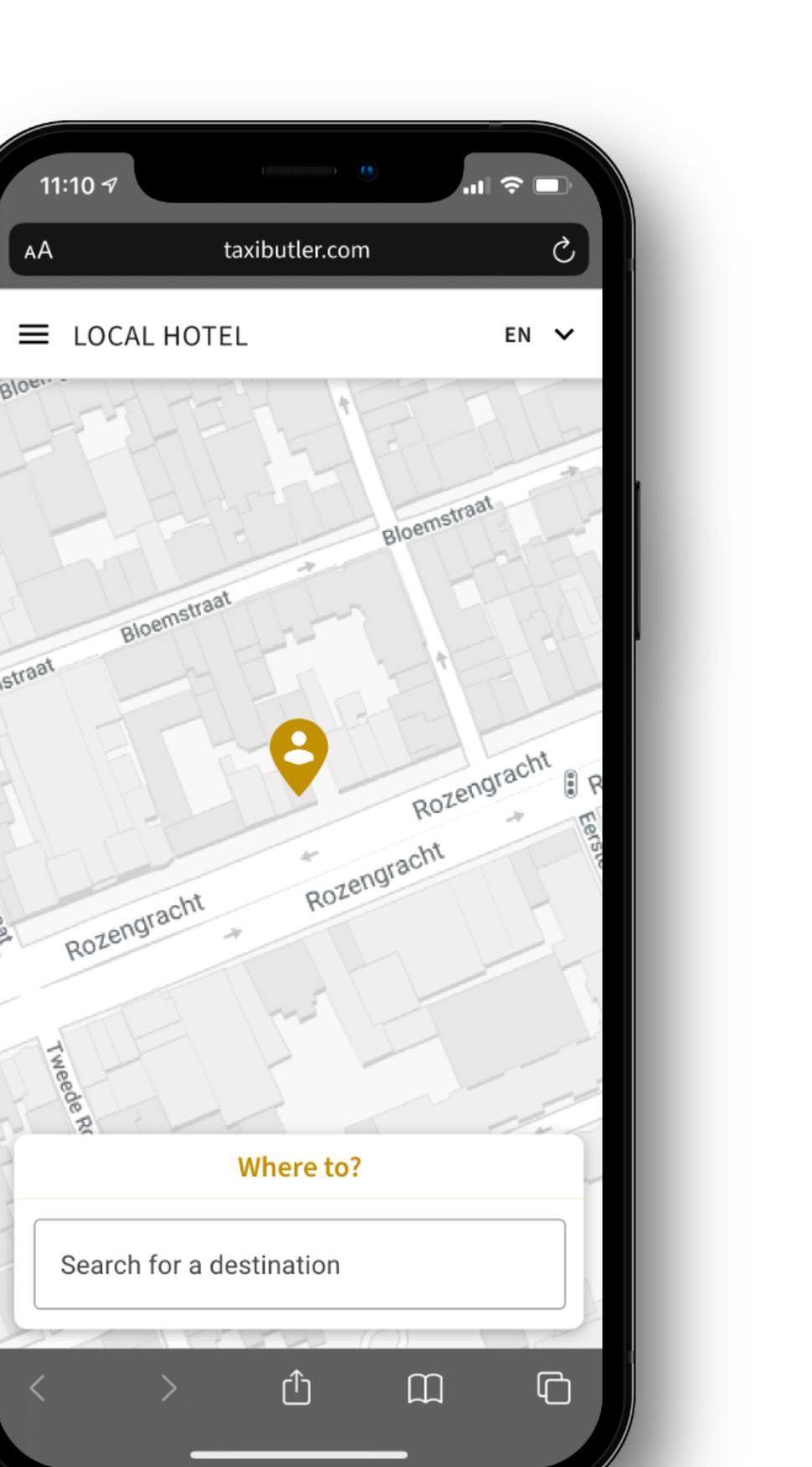 Find destinations easily
Smart Destinations allows users to easily search and select their destination.
Track. Trace. Trust.
Users track their taxi live on the map and see when your driver is outside. They'll see your driver's name, vehicle information and how much they should expect to pay.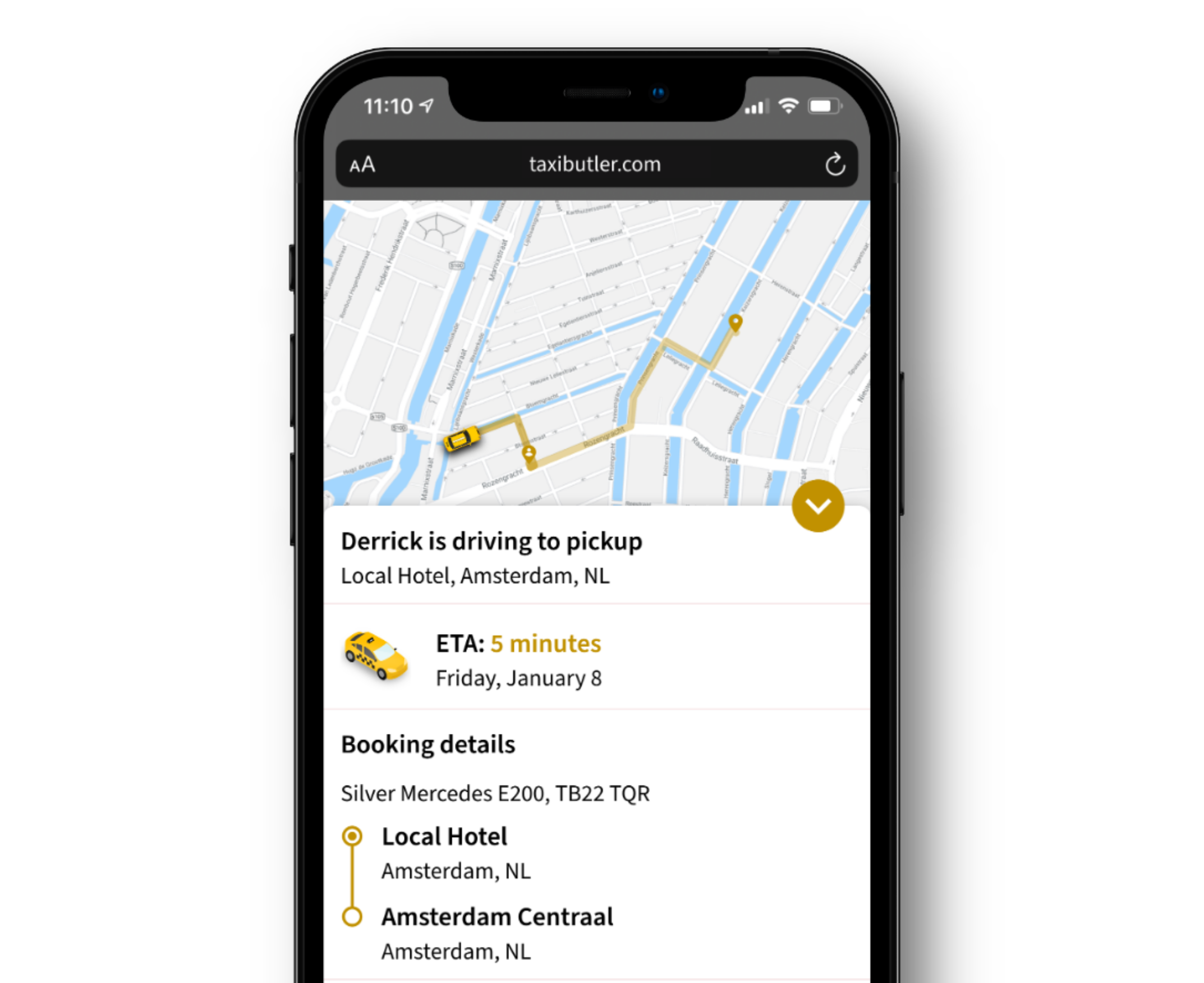 User authentication. Built in.
Using SMS verification, we'll verify users for you. And we'll send them an SMS to track their taxi right to the venue.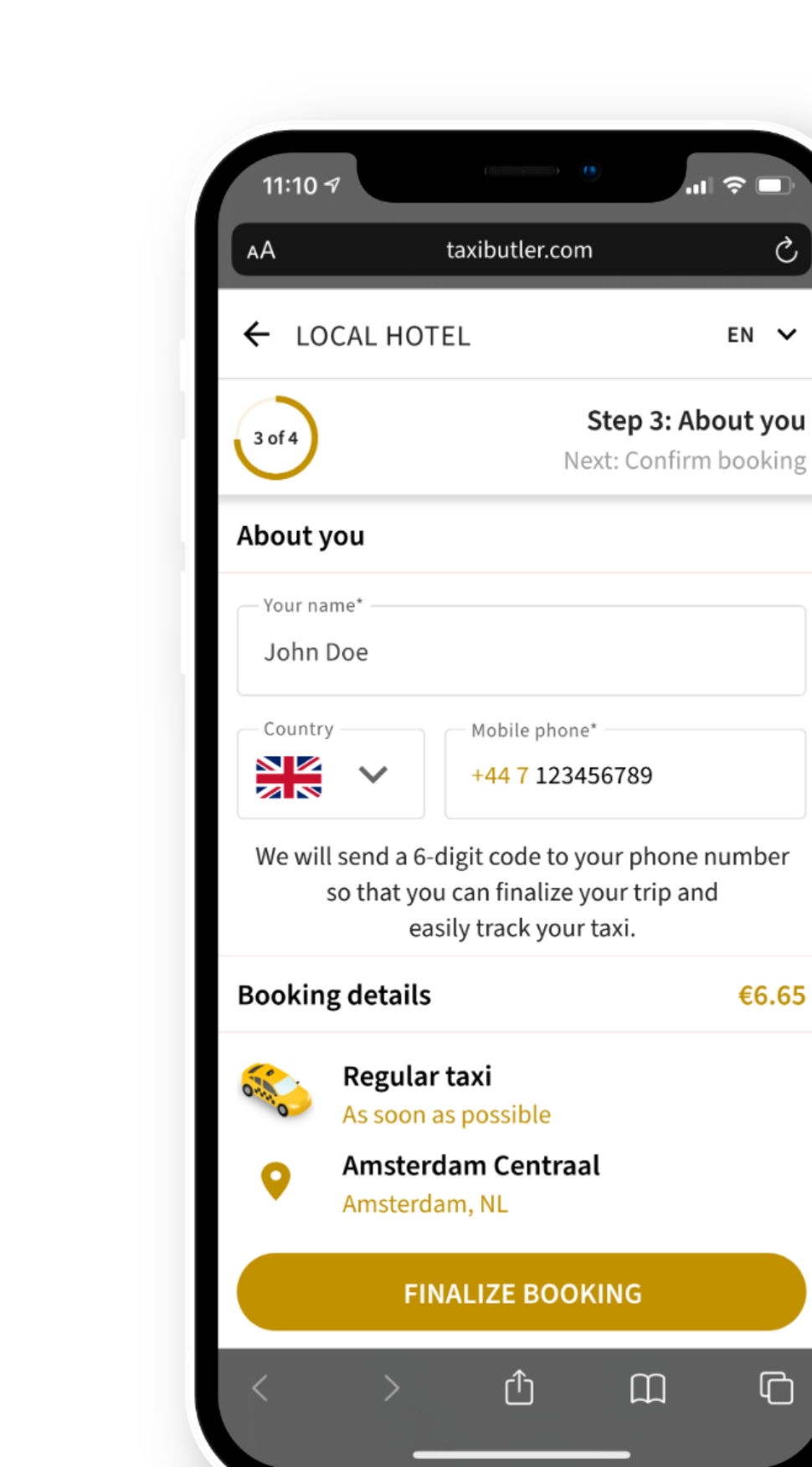 Generate, print and place taxi booking QR codes
Create Taxi Butler QR codes from your Portal

Print them on any marketing material

Place them in your local venues

People inside venues book taxis exclusively with you

We're also on-hand to support you with
creating marketing materials with custom
templates and a printing service! 🖨️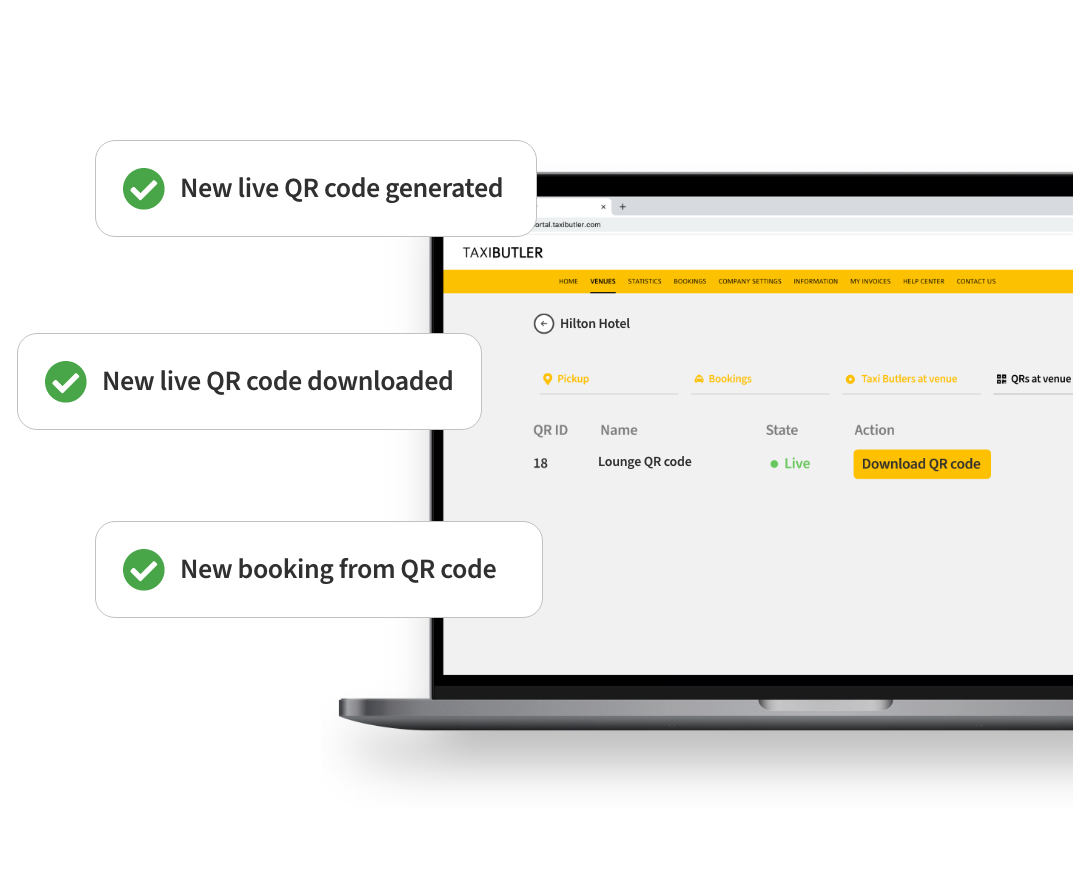 Precise control for each venue
Create separate QR codes for each location inside a venue to get more data and insights on how well each QR code is performing.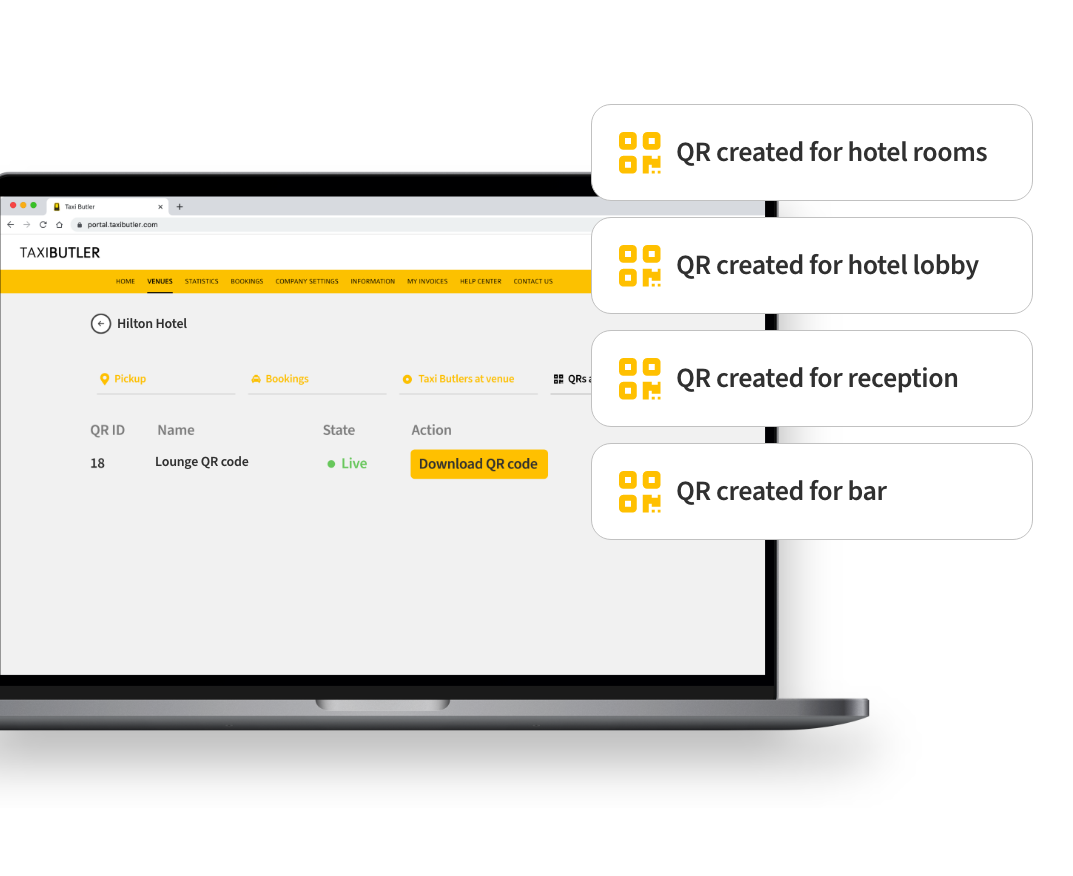 Create QR codes in an instant
Use default settings to quickly and easily create new QR codes with pre-configured vehicle types and branding.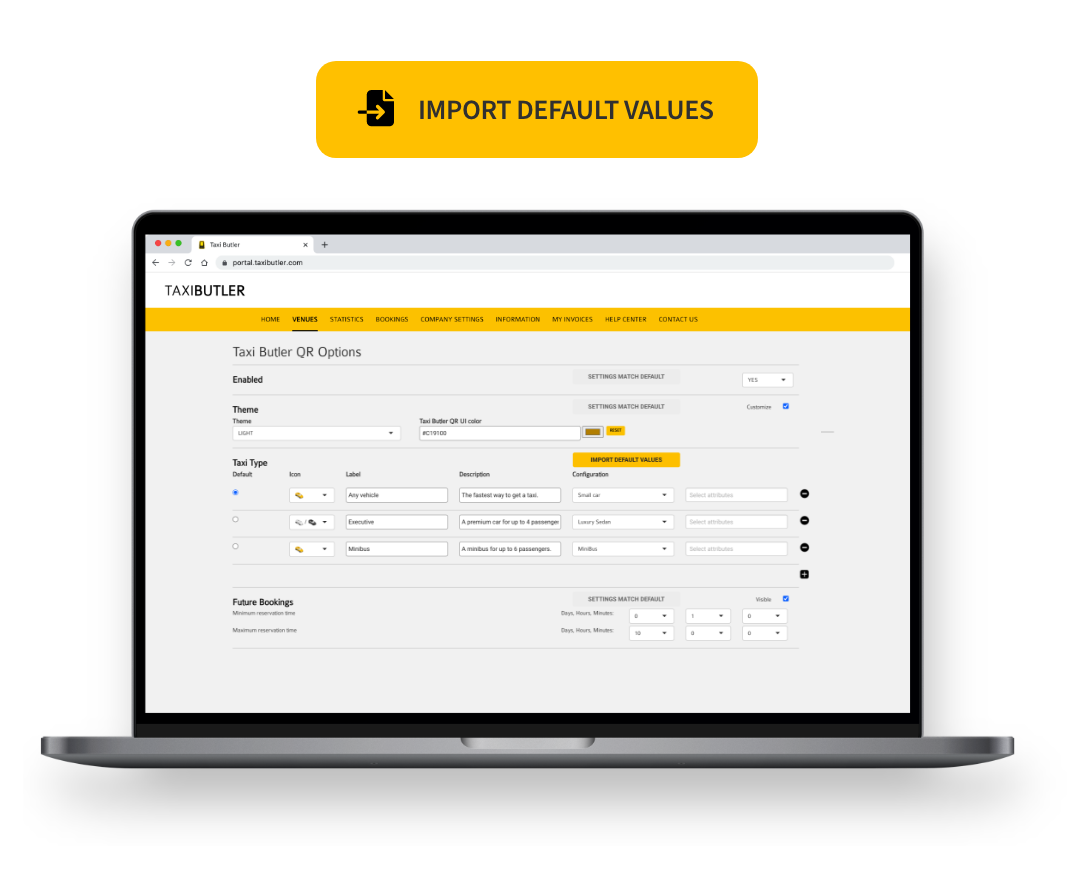 The next-generation QR code taxi booker for taxi fleets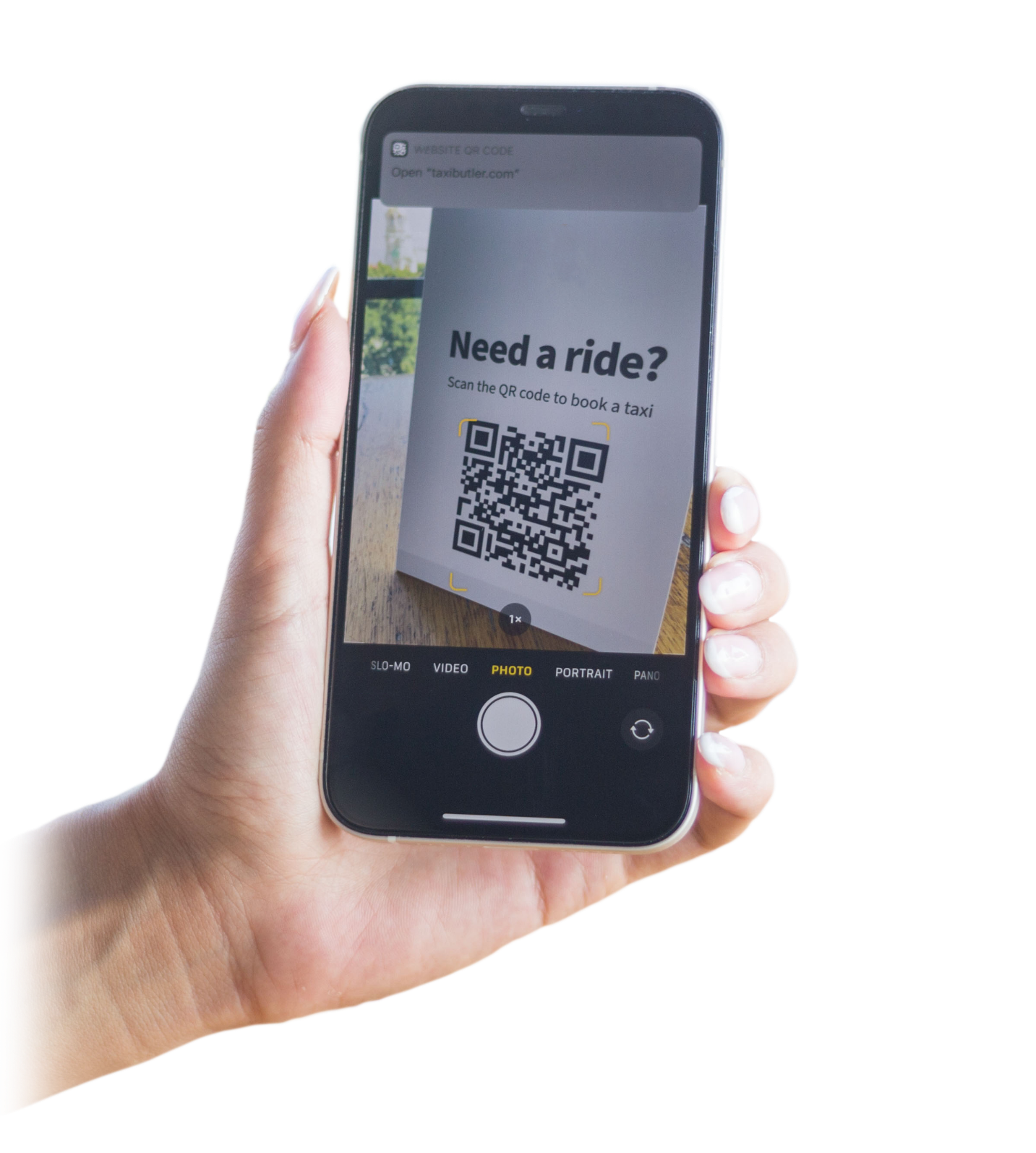 Frequently asked questions 💬
Taxi Butler QR is a service for taxi companies to generate bookings from visitors inside venues like restaurants, hotels, bars, hospitals, airports, casinos, sports clubs and more.
Taxi companies that use Taxi Butler QR receive a unique QR code for each of their venues. The QR codes can be scanned by smartphones and are linked to Taxi Butler QR's web booking interface.
Taxi companies place the QR codes in hotel rooms, lounge areas, on restaurant tables, etc. It is a way to get extra exposure for their taxi service and encourage people to book a local taxi during their stay at a venue.
A QR code (short for Quick Response code) is a two-dimensional barcode that can be read by smartphones and other devices. QR codes are typically used to store information such as website URLs. When a QR code is scanned, the device will typically open a web browser and load the stored URL. In the case of the Taxi Butler QR, someone can scan the taxi QR code and the device will open the taxi QR code booker in the browser.
QR codes are becoming increasingly common, and they are often used to provide quick and easy access to information. For example, the taxi QR code booker can be accessed easily and quickly by anyone with a smartphone that wants to book a taxi.
The taxi booker will open the user's browser after scanning the QR code. The taxi QR code booker is meant to book a taxi quickly and easily. Simply choose a destination and taxi type and the taxi QR code booker will order a taxi.
The taxi QR code booker works in 4 steps:
Choose a destination

Select a vehicle type

Enter a name and phone number

Finalise the booking
The whole process takes just a moment, and everyone can be assured of getting a local and reliable taxi service.
When a booking is made, an SMS will be sent to the phone number linked to the booking. This SMS contains a URL link to a webpage where updates can be viewed and the booking can be managed.
Manage, track and cancel bookings, it's all possible with the taxi QR code booker.
On the taxi tracking page, the taxi QR code booker gives the option to cancel the booking.
Taxi Butler QR sends the booking directly to your fleet using your dispatch system. Taxi Butler QR is currently integrated with iCabbi, SmartMove, MTI and Autocab. Many more integrations are currently in progress.
Taxi Butler QR comes with a 3-month free trial. Contact us for more information about pricing.